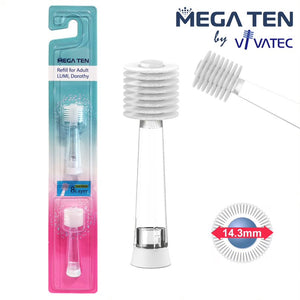 1) Bristle fineness: 0.09mm; Brush head diameter: 14.3mm.
2) Use on MEGA TEN/DOROTHY/LUMI Sonic Toothbrush.
3) Replace a new toothbrush head every 3 months or when bristles become frayed or discolored.
How to replace MEGA TEN refill brush head?
Unlock the brush head by turning it counter clockwise, and remove it from the handle.
Replace it with a new brush head. Turn it clockwise until it is locked into place.
When to get a new toothbrush?
Replace toothbrush every 3 months. Consider getting a new toothbrush sooner if you get sick, especially your toothbrush is stored close to other toothbrushes. If bristles are frayed, they won't clean teeth as thoroughly.

Note
All MEGA TEN refill brush heads are interchangeable.  If you want a smaller brush head, you can use MEGA TEN brush head for kids