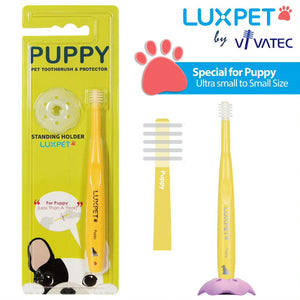 1) Bristle fineness: 0.05mm; Brush head diameter: 10.7mm
2) Special toothbrush for puppy.
3) Optimized spacer with washer rings for hygiene
4) Short yet soft bristles to remove plaque and tartar
5) High elastic ultra fine DuPont Tynex® with round-cut ends
BRUSHING YOUR PET'S TEETH EVERYDAY
CAN HELP PROLONG A HEALTHY LIFE!
Key Features of LUXPET Toothbrush for Pet
Patented Round Brush Head that cleans from any angle.
Comfort Design Handle is easy to grip and easy to clean.
Safety End-Rounded bristles Brush Head that won't poke gums or sensitive tissues.
Removes About 2x More dental plaque than flat head toothbrushes.
Over 15,000 Soft Bristles brush away dental plaque.
Veterinarians Agree the best preventive dental care is daily toothbrushing.

How To Train Your Pet To Get Their Teeth Brushed
STEP 1
Train your pet with being held around their mouth.
STEP 2
Softly brush side by side.
STEP 3
Use the brush with toothpaste once every two days.