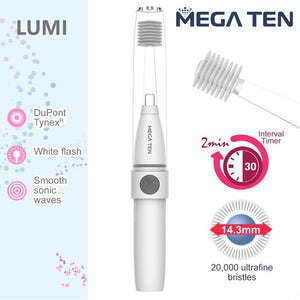 1) Bristle fineness: 0.09mm; Brush head diameter: 14.3mm
2) The oral cavity wall can be cleaned at the same time when brushing teeth. Reduces bacterial growth and plaque formation
3) The end-rounded bristles protect gum line and soft tissue
4) Vibration rate- 18,000/min Deep clean mode
5) Interval Time function
6) Waterproof
7) Operate on 1x3A battery
8) Replace a new toothbrush every 3 months or when bristles become frayed or discolored
REPLACE A NEW REFILL AND BATTERY
When to get a new toothbrush?
Replace toothbrush every 3 months. Consider getting a new toothbrush sooner if you get sick, especially your toothbrush is stored close to other toothbrushes. If bristles are frayed, they won't clean teeth as thoroughly.

How to replace MEGA TEN refill brush head?
Unlock the brush head by turning it counter clockwise, and remove it from the handle.
Replace it with a new brush head. Turn it clockwise until it is locked into place.

When to replace a new battery?
Replace a new battery every 2-3 months. Maintain a good vibration rate to ensure oral cleaning performance.
How to replace a battery?
Open the battery cap by turning it clockwise.
Insert a new 3A battery with the correct polarity.
Put back the cap and turn it counter clockwise until it is locked.
Ensure no gap between the cap and the handle.
"IPX7 Waterproof"
MEGA TEN sonic toothbrush reaches International Protection rating IPX7.  Protect against water immersion in 1 meter (3.3 feet) of water for up to 30 minutes. (make sure the battery cap firmly closed)

"LED brush head"
You can clearly see your oral conditions with the beam light. You won't miss any area when brushing your teeth!
"End-rounded Bristles"
The end-rounded bristles can easily remove plaque on the tooth surface, provide comprehensive care for teeth and gums, and reduce the possibility of trauma to the soft tissues in the oral cavity.
"Interval Timer"
A jitter reminder at every 30 sec that to remind user to move on to another quadrant of his/her mouth. After 2 minutes, it will auto turn off.
Note
MEGA TEN LUMI suitable for age of 13 or above.

MEGA TEN refill brush head for kid sonic is interchangeable with MEGA TEN refills for adult.  If you want a smaller brush head, you can use MEGA TEN refill for kids sonic.