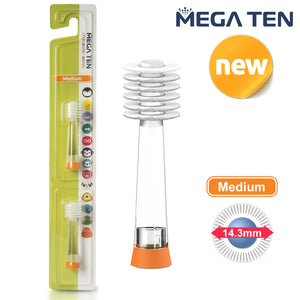 Bristle fineness: 0.09mm; Brush head diameter: 14.3mm.
No. of bristle layer: 6

Use on MEGA TEN Sonic Toothbrush.
Replace a new toothbrush head every 2-3 months or when bristles become frayed or discolored.
Suitable for 3+ years old.
How to replace a MEGA TEN refill brush head?
Unlock the brush head by turning it counter clockwise, and remove it from the handle.
Replace it with a new brush head. Turn it clockwise until it is locked into place.
When to get a new toothbrush?
Regularly replace toothbrushes every 2-3 months. If you or your child falls ill, consider replacing the toothbrush even sooner. Bristles that appear frayed won't clean teeth effectively, so it's essential to maintain a fresh toothbrush for optimal oral hygiene.

Attention
Ensure children use the product under adult supervision. The toothbrush is not intended as a teether. Excessive chewing may damage the washer rings and cause bristles to break off.