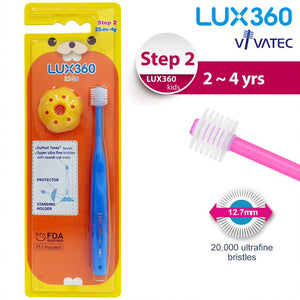 Introducing the LUX360 Step1 Kid Toothbrush, designed with your little one's dental health in mind. This toothbrush is tailored for children aged 2 to 4 years, and it comes with a silicone protector to ensure a safe and enjoyable brushing experience.
Key Features
Optimal Brush Head Size  With a brush head diameter of 12.7mm, our toothbrush is perfectly sized for delicate mouths, making brushing a comfortable experience for your child.

Gentle and Effective  The LUX360 Step2 Kid Toothbrush offers a gentle way to introduce oral care to your child's routine.

Silicone Protector  Included with the toothbrush, the silicone protector adds an extra layer of safety, ensuring that brushing is worry-free for both you and your little one.

Effortless Cleaning  Say goodbye to awkward twisting and turning. The all-around bristle design of the LUX360 brush head eliminates the need to twist your wrist, making it easy to clean even hard-to-reach areas.

Comprehensive Cleaning  The unique 360-degree bristle brush head not only cleans teeth but also targets the oral cavity wall, reducing bacterial growth and plaque formation.

Soft on Gums  The end-rounded bristles are designed to protect your child's gumline and delicate oral tissues, ensuring a comfortable brushing experience.

Water-Only Cleaning  Worried about toothpaste? With about 20,000 fine bristles, the LUX360 Step1 Kid Toothbrush effectively cleans teeth, gums, cheeks, and tongue using water alone.
Utilize the protector as a stand to keep your toothbrush upright and ensure proper drying. When it's time to lay your toothbrush down, trust in the surface protection it provides.       
Extra Safety Layer  Our Silicone Protector adds an additional layer of safety to your toothbrush, providing peace of mind during every brushing session. Designed with care, it safeguards the toothbrush and promotes worry-free oral care for all ages.

Multipurpose Stand  This protector doubles as a clever stand for your toothbrush. Enjoy the convenience of an upright toothbrush holder, promoting hygienic drying and organized storage. No more searching for the perfect spot to place your toothbrush.

Surface Protection  Lay your toothbrush down confidently, knowing that the Silicone Protector prevents the brush head from touching surfaces. With this added protection, you can maintain the cleanliness of your toothbrush even when it's not in use.

When to Get a New Toothbrush?
Regularly replace toothbrushes every 2-3 months. If you or your child falls ill, consider replacing the toothbrush even sooner. Bristles that appear frayed won't clean teeth effectively, so it's essential to maintain a fresh toothbrush for optimal oral hygiene.

"End-Rounded Bristles for Comprehensive Care"
Our toothbrush features end-rounded bristles that efficiently remove plaque, ensuring thorough care for teeth and gums while minimizing the risk of trauma to the delicate tissues in the oral cavity.

"Efficiency without the Hassle"
Unlike conventional toothbrushes, the LUX360 Step1 Kid Toothbrush's all-around bristle design means you don't need to twist or turn your wrist to reach challenging areas.

"Patented All-Around Bristle Brush Head Design"
The innovative 360-degree toothbrush design employs patented technology. Each layer of bristles moves independently, safeguarding gums and teeth from excess force during brushing.

"No Worry about Swallowing toothpaste"
Boasting approximately 20,000 fine bristles, our toothbrush removes 2 times more plaque compared to traditional brushes. With its high-density elastic bristles, the LUX360 Step2 Kid Toothbrush allows children to clean their teeth effectively using water alone.

Attention
Please supervise children while using the product. The toothbrush is not intended to be used as a teether. Excessive chewing may damage washer rings and cause bristles to break off.